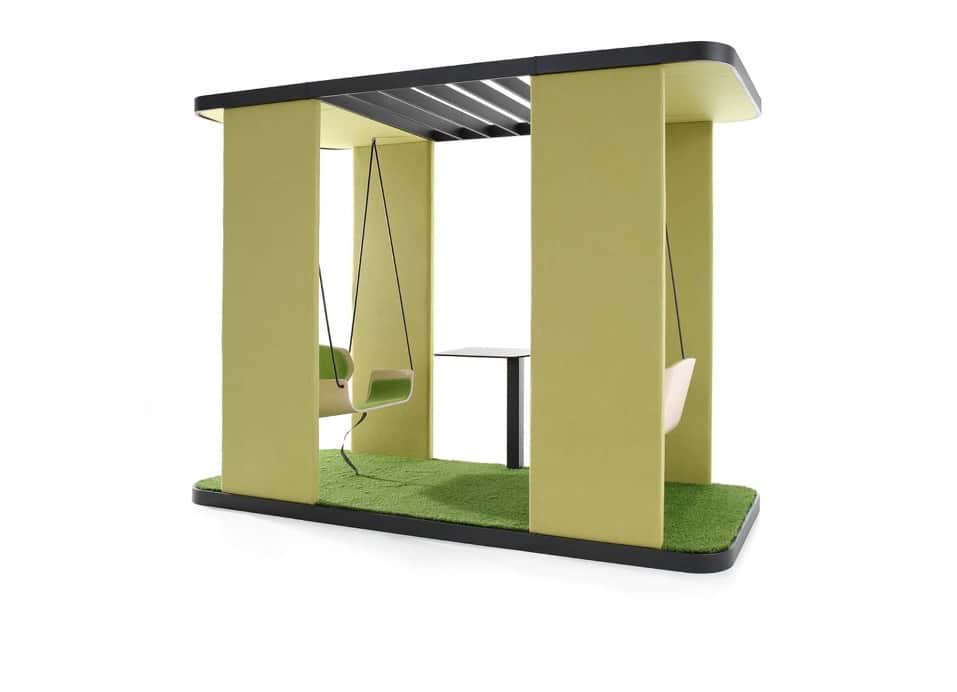 Office swing sets
Office Swing Sets are truly unique and original structures that provide an innovative space where to relax privately or where to meet in pairs or as larger groups. To better explain the nature of Office Swing Sets it is easier to imagine the traditional swings you would find in the park brought into a professional environment by the use of high quality materials that create a solid and stable structure. In terms of practical use, Office Swing Sets are perfect to be used as places where to have meetings with a huge plus, or take a break in solitude. A subtle swing can help lowering stress and calming emotions that will in turn stimulate focus and increase concentration and efficiency. 
Showing all 3 results
Office Swing Sets come in different sizes, from individual, free standing swings that can be spotted around the office space as alone units, or placed nearby to create little clusters of fun and recreation. They are also available as double office swing sets composed of two swings under a united roofed and open structure that can also be fitted with a table to hold all the essentials. Office Swing Sets are also available in larger sizes as a round open structure with an open centre and up to ten individual swings springing for the roof beam. All Office Swing Sets, independent of the shape or size are available in a variety of finishes that can match or contrast between different parts. A wide array of colours also help achieve the right look, bright colours to fully embrace the fun aspect of the office swing sets, or neutral colours for a more peaceful and calm atmosphere to promote relaxation. 
Office Swing Sets are not a simple novelty, underneath their simple and child-like look, they are intelligent structures that can be a powerful tool to make meetings more engaging by introducing more fun to long and often monotonous meetings. Office Swing Sets can also provide a wonderful addition to canteens or break out areas, helping turn the boring office interior into a happy park. They are also fun looking structures that can upgrade any dainty or simple decor to a creative and inspiring environment that can truly motivate workers to perform better.