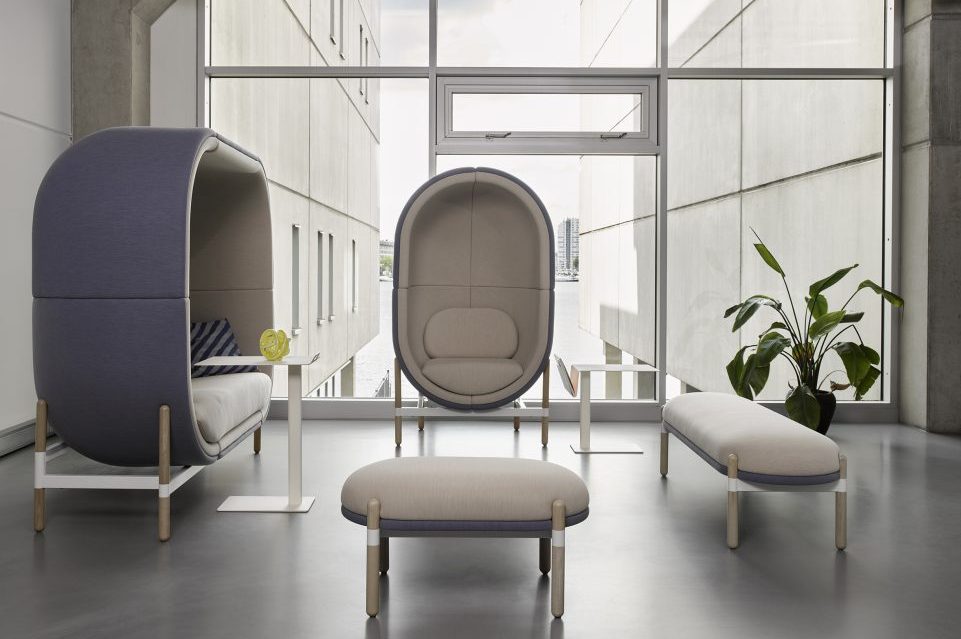 Acoustic armchairs and sofas are in simple terms an enhanced piece of furniture, typically a chair, armchair or sofa with acoustic properties that help reduce noise and create semi-private spaces. They are ideal for use in any open plan space, such as offices, building receptions or hotel lobbies.
What is the difference between acoustic armchairs and sofas and normal seating furniture?

One of the main concerns when thinking of acoustic chairs and sofas is that they might not provide total privacy because they are open, so how are they any different from standard armchairs and sofas? Though this is partially true, we need to consider that this kind of products are much more advanced than the armchairs and sofas we are used to and consider normal. For example, they usually have a high back, or an all-encompassing high wall that surrounds the chair or sofa and that helps increase privacy and comfort. Adding to their cave-like construction, acoustic armchairs and sofas use sound absorbing materials that reduce sound reverberation, thus adding a further layer of intelling design that cannot possibly be rivaled by the common seating furniture.
Acoustic armchairs and sofas are also constructed with comfort at the core of their design, they offer cushioned seating and backrest, often ergonomically designed to make sure users can work or relax in them without any damage to their posture. 
Also a step ahead from common seating furniture, acoustic armchairs and sofas can be further equipped with a variety of accessories, such as work tables, lamps, or power and data sockets. They have been specifically designed to provide gathering spaces, for professional or recreational meeting alike, so that every aspect of their construction takes this social aspect into consideration.

Should I add acoustic armchairs and sofas to my office?


If you have an office, a building reception, hotel lobby, or any other open plan space where there is a lack of places where to sit alone or as a team to work or chat, without being distracted by passers by and/or the noises of your surroundings, the answer is yes! Unlike standard seating furniture, acoustic armchairs and sofas have been specifically designed to create comfortable seating spaces, where comfort, acoustics and privacy are a key concern. 
Another advantage of using acoustic armchairs and sofas, is that they facilitate the management of sound travel paths across offices and other open plan areas to help diminish the impact that disturbing noises can have on workers, without having to create fully enclosed rooms. They also are different from fully enclosed meeting pods and/or semi-open meeting booths, because this kind of acoustic furniture offers some degree of privacy and quietness without having to be completely isolated from the outside space. 
In addition to this, because they are similar to common seating furniture they do not feel intrusive or bulky. Therefore they are easier to accommodate in small spaces, but they still provide a higher level of privacy and quietness than normal seating furniture cannot compete with. They are also easier to move around than larger office pods or booths, making them extremely flexible and adaptable to possible changes in the office layout. Another characteristic that makes acoustic armchairs and sofas so adaptable is that many have a modular design, meaning you can join two or more pieces together, in order to create cluster-like areas for communal work and friendly team gatherings. With the constantly changing needs of the modern-day office, the flexibility and adaptability offered by this kind of acoustic furniture can truly make a difference to any organisation. 
Similarly, acoustic armchairs and sofas are available in a wide variety of shapes, materials and finishes, from uber contemporary and futuristic designs, to more discreet and simple structures, so that you are bound to find the right piece to complement or revamp any office decor. They are also available in a variety of sizes, from small two person units, to larger options, capable of comfortably fitting over ten people in a single seating.
Adding to the benefits of acoustic armchairs and sofas, they also tend to be more economical than other similar solutions, so they can offer a number of uses for open plan offices at a relatively low cost. For example, they can easily add semi-private spaces for professional or social interaction, as well as areas of relaxation, or spaces for concentration and team brainstorming. 
In conclusion, acoustic armchairs and sofas are a smart and creative way to add semi-private spaces in any open plan area, and because they are highly similar to common seating furniture they offer a number of benefits that make them simple yet efficient. Because they are in between common seating furniture and the more complete meeting pods and/or booths, acoustic armchairs and sofas are a great compromise for those seeking to add some privacy and comfort to their space, without having to commit to a built in room or a larger pod/booth.